SOCIAL MEDIA & MARKETING AUTOMATION INTEGRATION 101
Social media and marketing automation are a match made in heaven.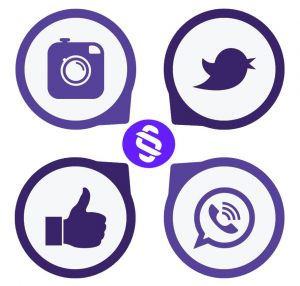 When you properly integrate your social media with digital automation programs, the opportunities for lead generation, conversion, and customer retention are endless.
You would be surprised by how many businesses are not fully taking advantage of the power of social media marketing analytics and automation. Companies are misled to think that they can just wing it with their own paid and earned social media tactics. The truth is that unless you are closely monitoring and strategically adjusting your social media campaigns, you will not yield maximum results.
Here are the three best ways to ensure that you maximize your social media efforts in tandem with your marketing automation strategy:
What is the best way to nurture leads and build customer relationships? Get personal. To stay ahead of the curve in this competitive digital marketing landscape, your business needs marketing automation to aid your social media efforts in a personalized way.
Personalization in the context of social media is all about creating content that is tailored to your unique audience. What is your company's point of difference and how can you create content that has a human, personal touch?
Generic blog articles and repetitive infographics will get easily overlooked among the deluge of similar content constantly flooding people's social media feeds. You want your business to be a thought leader whose content stands out. If this means publishing less often to ensure high quality posts, it's worth it.
Most importantly, once you identify your best performing curated content, re-purpose it. Using marketing attribution tools, you can assign dollar values to different social media campaigns and determine which posts or influencers are driving the highest conversions.
2) Create Seamless Social Media & Email Integration
Another surprising fact is that businesses tend to under-utilize their ability to use social media to improve their email marketing campaigns. If you are strategic about producing and distributing content on Facebook, Twitter and Instagram, you can exponentially increase the contacts on your email list.
Nowadays, your email marketing automation strategy is simply not complete without social media integration. There are some simple ways to ensure that you are taking the right steps to start coordinating your social media and email marketing. For example, you can share linked blurbs of your email newsletters/updates across all your social media channels.
No matter what, at least start by making sure that your email content is easy to share on social media, and that you have opt-in forms clearly included on your blog pages. For example, the Chainlink Marketing Platform makes it easy to integrate and promote your leads and customers to share their experiences across social channels with the simple click of a Social Sharing button, which can be included on every marketing touchpoint. Customizable Social Share Buttons and Social Follow Buttons create a seamless way for customers to transform social media into your biggest inbound sales tool.
3) Focus on Building the Relationship
One of the biggest reasons why social media marketing is so effective is because interruption advertising is losing traction. Forrester recently wrote a blog post about how research continues to show that people have less time and tolerance for interruption-driven media.
Your targets will oftentimes scoff at paid social media ads, but they will probably be intrigued a useful article on a relevant topic as they are scrolling through their feeds. Consumers today are more demanding than ever about customer service. People will want your resources if they are interested in your products and services.
As an inbound marketer, you need to actively engage with the people who are interested in your product or service, and all related topics. You can then track your leads along their path to purchase by using data analytics tools like the Chainlink Platform. This information is invaluable, as it helps your business figure out which social media strategies are working great, and those that are not performing so well.
When you automate the processes of monitoring critical data and notifying key members of your team on social media analytics, you free up a lot of time for them to focus on other important marketing tasks. Social media monitoring tools indicate what kinds of content are shaking up the Internet and resonating on across social platforms. This will, in turn, drive you to publish the content that your audience truly desires.
Without a doubt, using social media will allow you to promote the content you're creating and achieve your inbound marketing strategy goals. The Chainlink Platform enables seamless integration between your social media profiles and data with your marketing programs and workflows.